Here you can enter the online classes at Rört
Before you join a class at Rört, please read the instructions below.
If you have done so and you signed up for a class on our website or app, click on the "Enter the next class" button:
(or use Meeting ID: 485 979 998 and password: 62900184 )
ENTER THE NEXT CLASS
---
GET YOUR ONLINE ACCESS TICKET
You can sign up for the classes with a membership or our new Online Access Ticket.
👉 Read more and get your ticket here.
WHAT IS NEEDED TO JOIN
The online classes at Rört take place on a program called Zoom. This allows us to run the classes with great audio and video quality and also see each other, ask the teacher a question and create an interactive class experience. You can join from a laptop (which is recommended), but also from your smartphone, iPad or other tablet.
DOWNLOAD ZOOM
Click here to get the program: Zoom for your laptop , Zoom for your iPhone/iPad, Zoom for your Samsung/android
If you cannot download Zoom, you can also join directly via your browser (Google Chrome, Safari, Firefox, …), but we recommend installing Zoom for the best experience.
JOIN A CLASS
1.) Sign up for a class on our schedule here (or the app).
Read the class description to make sure there is no special sign-up requirement for that class. All class times are Copenhagen time (GMT+2).
2.) Click on the "Enter the next class" button on top of this page 10 minutes before class starts, to arrive at our waiting room.
3.) Now the teacher will be notified that you are waiting and check your full name (see below) to make sure you signed up for the class. If the Zoom username matches the sign up list, you will be able to enter the virtual studio.
How do I enter my full name to Zoom?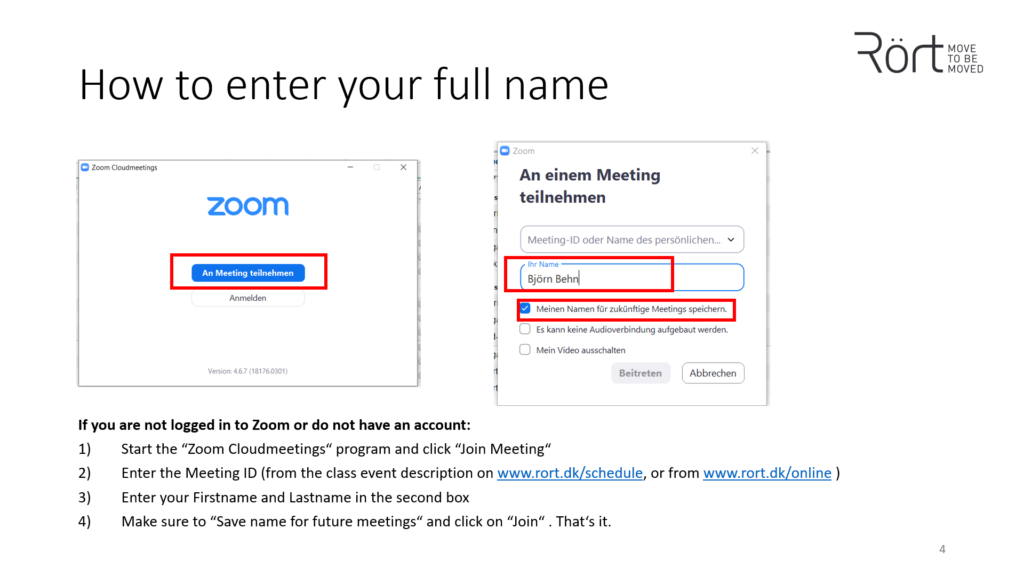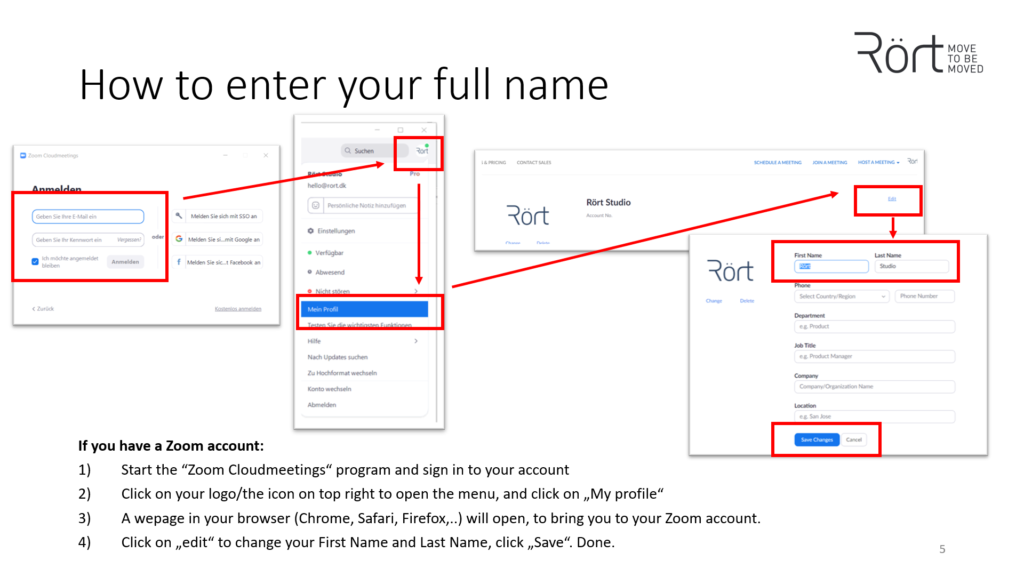 For all other questions:
Take a look at our guide here: Rört Online Classes Guide (pdf)
You can also take a look at our FAQ section "Questions?", e.g. if you cannot log into your account, or send us an email.
Get your Online Access ticket
Since the lockdown forced us to close our studio and to offer online classes instead, we want to give you an easy opportunity to join these classes as well:
You can now get a "1 month unlimited Rört online access" ticket for 249,- Danish Kroners (33 Euros), which allows you to sign up for an unlimited number of online classes for one month.
See all our online classes, from yoga, meditation, to workout and running, on the schedule here.
Get your .
This ticket is not transferable to another person and not refundable, please see our terms and conditions.
The Online Access ticket will give you access to as many classes from our weekly schedule as you can fit into your day. Please be aware that it is not a membership, so you will not be able to join member only events or make use of member discounts when you sign up for a workshop or course. If you want to sign up for a membership, you can do that on this page here.
Alternatively you can also sign up for a single class, just go directly to the schedule, click on "sign up" and follow the steps.
See you in class. 🙂